Lloyds Banking Group pays more than £1m to 25 staff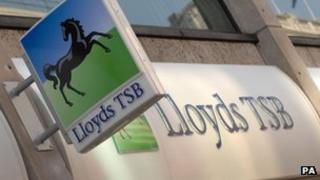 Lloyds Banking Group, which is 39% state-owned, paid more than £1m to 25 of its staff last year.
It paid a total of £365m in bonuses for the year, which was down 3% on 2011.
Five of its staff earned between £2m and £3m, while 20 were paid between £1m and £2m.
Among its competitors, Barclays paid more than £1m to 428 bankers, HSBC had 204 earning more than £1m and Royal Bank of Scotland, which is also part state-owned, had 93 earning over £1m.
Lloyds generally pays smaller bonuses as a result of not having a large investment banking division.
Most of the staff earning more than £1m work in its wholesale banking division.
Lloyds reported a loss of £570m for 2012, hit by the £3.6bn it had to set aside to pay customers who were mis-sold payment protection insurance.
Most of the bonuses were paid in shares, with the maximum cash bonus allowed being £2,000.
Lloyds chief executive Antonio Horta-Osorio received an annual bonus of £1.5m in shares, which he will only be allowed to sell if the government sells at least one third of its stake in the bank at a price above 61 pence per share, or if the shares rise above 73.6p for a set period.
On Monday afternoon, Lloyds shares were trading at 48p.
Mr Horta-Osorio's basic salary is £1.1m.
He was also awarded a long-term incentive plan that is expected to be worth about £1.1m.