Income drawdown warning for 200,000 pensioners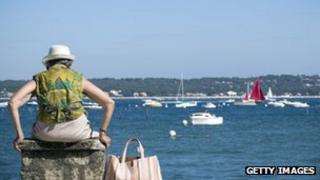 Hundreds of thousands of pensioners are being warned not to take full advantage of new rules on pension drawdown.
Pensioners who do not buy an annuity with their savings pot, but instead opt to "draw down" income from it, will be able to generate more cash.
But experts in the industry said if people want the maximum amount allowable, their pensions may not be sustainable.
The changes take effect from Tuesday.
The Chancellor of the Exchequer, George Osborne, reduced the amount pensioners can draw down in April 2012.
However the decision was reversed in the Autumn Statement.
About 200,000 pensioners currently use the system to draw an income from their pension pot, while maintaining most, if not all, of their capital.
This involves using the interest from investments in shares or bonds as an income, or by selling a relatively small proportion of the underlying assets themselves.
Extra Income
The change in the rules will allow pensioners to draw an extra 20% in income.
For example, a pensioner with a fund of £100,000 could previously draw a maximum income of £5,800 a year.
Now he or she will be able to draw up to £6,960, providing more than a thousand pounds of extra income.
The concern is that the new rules could encourage people to sell too large a proportion of the assets in their pension funds, so limiting their income in the future.
Danny Cox, of the fund and pensions group Hargreaves Lansdown, believes the new rates may be impractical for many pensioners.
"Taking the maximum rate from a drawdown plan is unsustainable," he told the BBC.
"In my view, a sustainable income is currently no more than 4%, or £4,000, on a £100,000 pension pot."
Others, however, believe the new rules will allow pensioners much greater flexibility in planning their financial futures.