Buffett to get increased share in Goldman Sachs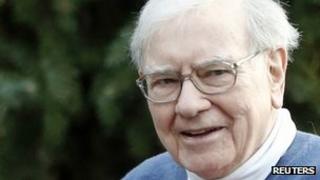 Warren Buffett is to become a top 10 shareholder of Goldman Sachs after he agreed to amend the terms of his 2008 investment in the bank.
In September 2008, Mr Buffett's Berkshire Hathaway fund invested $5bn (£3.3bn) in Goldman at 10% interest.
In addition to the interest, Berkshire was given the opportunity to buy billions of additional shares in the future.
Goldman is now giving Buffett shares for free to limit diluting its stock.
In return, the deal means Berkshire does not have to spend billions of dollars up front.
Under the 2008 deal, Berkshire had the right - called a warrant - to buy a further 43.5 million shares for $115 each on 1 October this year.
The $115 figure compares with Goldman's $147.43 share price in early Tuesday trading.
Instead of buying the shares, Berkshire will now get additional Goldman shares equivalent in value to the difference between $115 and the average closing price of Goldman's shares for the 10 trading days before 1 October.
According to estimates, this will make him the bank's ninth-largest shareholder.
Goldman Sachs chief executive Lloyd Blankfein said: "We are pleased that Berkshire Hathaway intends to remain a long-term investor in Goldman Sachs."
Mr Buffett, one of America's most celebrated investors, last month bought the Heinz food products business for $28bn.
The 2008 investment in Goldman came at the height of the global financial crisis.
It attracted much media attention, specifically surrounding the generous 10% interest the bank agreed to pay Berkshire.
Analysts said this reflected Goldman's need for the funds, and the lack of other potential investors either willing or able to put the money forward.