Child Trust Funds: What should I do?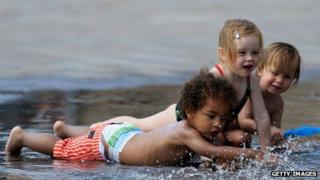 This year's Budget revealed a silver lining for those investing for their children or grandchildren.
The chancellor announced a consultation to look at the options for transferring the savings held in Child Trust Funds (CTFs) to Junior ISAs.
Although no changes are expected before April 2014, this is still excellent news - if transfers of savings are allowed it will give the parents of more than 6 million children greater freedom to choose the best option when saving and investing for their child.
Child Trust Funds
Child Trust Funds (CTFs) were launched in April 2005 as tax efficient savings and investment schemes for children.
The idea was to ensure every child had a nest egg at the age of 18 to give them a good start in life and to promote financial education.
Most children were eligible if born after 1 September 2002. CTFs were started with a £250 government voucher and additional contributions could be made by family or friends.
CTFs could be invested in cash or stocks and shares. The savings in CTFs are not normally accessed before age 18, when they are cashed in and the proceeds paid to the child. The maximum contribution in the forthcoming tax year - 6 April 2013 to 5 April 2014 - is £3,720.
The main principle of CTF - encouraging saving for our children to help them on their way - was sound. Unfortunately the rules were somewhat unwieldy, and the scheme closed for children born after 2 January 2011.
Junior ISAs
Junior Individual Savings Accounts (ISAs) were launched in November 2011 as the long term replacement for Child Trust Funds. Most children born before 1 September 2002 or after 2 January 2011 are eligible. Unfortunately, those children with CTFs are not eligible to start a Junior ISA.
As the name suggests, the Junior ISA works in a very similar way to the adult ISA: there are two versions, so-called cash or stocks and shares Junior ISAs.
The Junior ISA investments are not subject to capital gains tax, income tax on savings, or to further tax on dividend income. Less tax should mean a better return for your children on their savings and investments. Please note tax rules can change.
Junior ISAs are converted to adult ISAs at age 18 and passed to the ownership of the child to cash in or to continue to invest as they choose.
No government vouchers are available for Junior ISA holders. The maximum contribution is £3,720 in the new tax year. This contribution can be divided between cash and stocks and shares Junior ISAs in any proportion, but only one cash and one stocks and shares Junior ISA can be held per child.
The Junior ISA must be set up by the parent or adult with parental responsibility. After this, anyone can contribute, and grandparents are amongst the biggest supporters.
One hundred pounds per month saved into a Junior ISA for 18 years might grow to over £38,000 assuming a 6% annual investment return. This shows that modest savings over a long period might build to a large capital sum which can be used to help give the child a good start in life.
Please note this is not a guarantee and the actual returns could be higher or lower.
Transfers from CTF to Junior ISA
Unfortunately since the launch of the Junior ISA, CTF products have become second tier and many have been somewhat left behind.
There is already considerably better choice for Junior ISA investors than CTF investors. In some cases interest rates offered by providers are lower on CTFs than on their Junior ISA counterparts, disadvantaging many children simply by virtue of their age.
Up until the Budget, the Government was adamant that children with CTFs would not be allowed to open up a Junior ISA or allow a transfer of the value between the two. The announcement of the consultation brings welcome and excellent news.
In my view, from April 2014, children will have the option to invest in either a CTF or Junior ISA and be able to transfer savings between the two. Ultimately this is the first step toward a full merger, which makes a lot of sense.
What should CTF savers do?
Nothing is likely to happen until April 2014 at the earliest.
If you are saving into a CTF regularly you should continue to do so.
If you are unhappy with your current CTF provider you can transfer the value to another CTF. It is worth shopping around to check you are still benefiting from a competitive interest rate or not paying excessive charges.
If you are not currently saving for your children and are able to do so, even a modest amount put aside might help buy their first car, be put toward the deposit for a house, or help them through university.
The opinions expressed are those of the author and are not held by the BBC unless specifically stated. The material is for general information only and does not constitute investment, tax, legal or other form of advice. You should not rely on this information to make (or refrain from making) any decisions. Links to external sites are for information only and do not constitute endorsement. Always obtain independent professional advice for your own particular situation.