UK pensioners 'struggling' to cope in Cyprus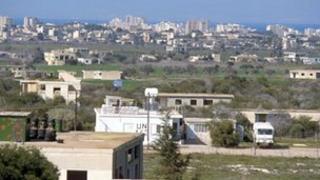 Some UK pensioners living in Cyprus are struggling financially, according to local residents.
Cyprus' financial crisis led to the UK government suspending pension payments to bank accounts in the country.
Expat pensioners say they are clubbing together to provide food parcels to those without access to their money.
It is now 10 days since the Department for Work and Pensions stopped paying pensions into banks in Cyprus, and recommended people use a UK account.
It was concerned that some people would be unable to access the payments in Cyprus, or might be liable to lose money if their deposits went over the 100,000 euro limit.
But out of 18,000 UK pensioners living in Cyprus, up to two-thirds are estimated not to have UK accounts.
Struggling
Fred Birkett retired to Cyprus 12 years ago. He told the BBC that many UK pensioners were struggling to make ends meet.
"I know of one lady who has no UK account," he said from his home in Larnaca. "She is pretty desperate. She has no money to call on."
He and members of his local church are trying to provide bags of rice and pasta, as well as tinned food, to pensioners who are in need.
"But we're concerned that if this continues for weeks and months, we won't be able to cope," he added.
He said that some British pensioners were now relying on a soup kitchen run by the Greek orthodox church in Larnaca.
Janet and Alan, a British couple in their 60s, live in the Famagusta region.
They have not had a pension payment since February, as they decided to block the most recent one, which was due on March 15th. They were worried the payment would get lost.
They have been relying on some cash they took out of the bank for other purposes at Christmas time.
"If we didn't have that money, we'd be in trouble," said Alan.
"We're running low. I don't have any money to pay for some large bills we owe."
His wife Janet confirmed that food hand-outs were being arranged in areas popular with British expats.
"Everybody is very worried. People are struggling," she said.
Alternative accounts
Staff at the DWP have been trying to contact as many pensioners in Cyprus as possible, by email, phone, and even sending letters by courier.
"Not all of them will be affected immediately," said a spokesman for the department, "because pensions are paid out on different days."
Those affected can nominate any account in the UK to have their pensions paid into.
"We are advising customers to change the bank account into which payments are made, for example by nominating an alternative bank account or the account of a trusted friend," Pensions Minister Steve Webb told MPs on Tuesday.
Otherwise expats can set up a new UK-based account.
But Janet in Famagusta was not impressed with the DWP response. She already has a UK account, but does not think it will help.
"How do I get the money from there to here?" she asked.
In theory UK debit and credit cards are valid in Cyprus, but most businesses are only accepting cash.
Anyone requiring help is being asked to contact the International Pensions Centre in Newcastle.