American Airlines and US Airways merger approved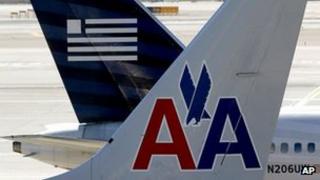 The merger of American Airlines and US Airways has been approved by a US judge, moving the two companies one step closer to forming the world's largest carrier.
The deal had to be approved by the judge because American Airlines has been in bankruptcy protection since November 2011.
The merger was first announced in February.
It still needs approval by the Justice Department and US Airways shareholders.
They are expected to back the deal before the end of the year.
"The merger is an excellent result. I don't think anybody disputes that," said Judge Sean Lane.
While loss-making American Airlines has spent the past 14 months protected from its creditors, US Airways has been profitable in recent years. The two combined airlines will have 6,700 daily flights and annual revenue of roughly $40bn (£26.5bn).
The majority of the merged company will be owned by American Airlines' creditors, but the chief executive will be the current US Airways boss, Doug Parker.