China manufacturing activity at 11-month high in March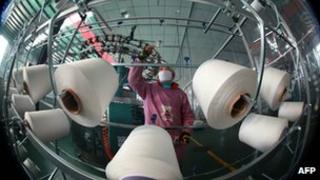 Chinese manufacturing has increased at its fastest pace in 11 months during March, indicating that an economic recovery was continuing.
The Purchasing Manager's Index (PMI) was at 50.9 in March, up from 50.1 in February, official data showed. A reading above 50 indicates expansion.
China's economy is coming out of its worst downturn in 13 years.
Analysts said that demand and output was being helped by a pick up in domestic demand.
March is considered a key month to assess manufacturing activity as data in January and February is skewed by the Lunar New Year Holiday when many factories are shut.
There is usually an increase in activity after the holidays as factories try to catch up after being closed. Analysts said improving global economic conditions also contributed to the increase.
"The improvement in the index, which changes the downward trend of the first two months of the year, indicates that the economic outlook in general is stabilising," said Zhang Liqun, from the Development Research Center, a state think-tank.
A separate survey by HSBC showed PMI climbing to 51.6 in March up from February's 50.4.
But even as conditions improve, the recovery has been uneven, as demand from key markets such as Europe and the US has faltered in recent months.
Analysts said they were expecting a slightly bigger jump in activity and am official PMI reading of 51.