Tankan: Japanese business mood improves on weak yen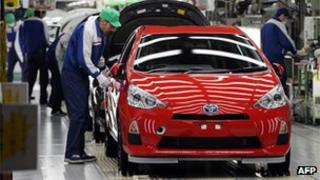 Japanese business sentiment improved in the January to March quarter, the Bank of Japan's Tankan survey has indicated.
But the improvement was less than expected, highlighting the challenge facing Prime Minister Shinzo Abe as he tries to revive economic growth.
The big manufacturers' index rose to minus 8 from minus 12 in December. A negative figure indicates pessimists outnumber optimists.
This is first survey after recent aggressive policy moves in Japan.
The new government and the central bank have taken various steps to try and stoke domestic demand and weaken the yen.
Analysts said those moves had helped improve the profit outlook for businesses and boost sentiment.
"The result reflected companies' expectations that a weaker yen and policy steps pursued by the government will have a positive impact on the economy," said Tatsushi Shikano from Mitsubishi UFJ Morgan Stanley Securities in Tokyo.
However, it has not been enough to bring sentiment into positive territory and shares in Tokyo were down.
The survey indicated that large firms planned to cut capital spending in the coming financial year by 2%, a sign that they were less convinced that demand can be stoked.
The central bank will hold its first policy meeting under new governor Haruhiko Kuroda later this week and many analysts are expecting further aggressive moves to spur spending.
Mr Kuroda has said he will do whatever it takes to help achieve a 2% inflation target in two years.
Japan has struggled with deflation, or falling prices, for more than a decade, which discourages companies from investing in the domestic economy.