Cricket can step up to the financial crease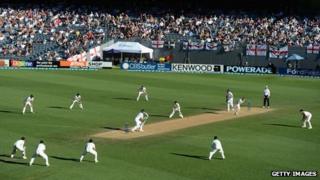 It has been a less than auspicious start to the year for English cricket.
The challenge put up by New Zealand in the recent Test series - which ended in a draw - was unexpected, to say the least.
BBC stalwart Jonathan Agnew went as far as declaring the fourth day of the third Test to be "one of England's poorest days in the past 20 years".
However, to mix sporting metaphors, the poor start to the year means 2013 could be very much a game of two halves for cricket.
Among several highlights later in the year will be the Ashes tour and the ICC Champions Trophy for the world's top eight one-day national teams, giving cricket - as a sport and a business - an opportunity to shine.
"This is a big year for the sport having been overshadowed by the Olympics, Paralympics, and European Championships last year," says Nigel Currie of Brand Rapport, which has organised sponsorship for the LV= County Championship.
"Sport is so competitive now in terms of events, to grab your moment in the spotlight is pretty important."
Tradition
One example of just how important these events can be is to be found in the 2011 accounts of cricket's governing body, the England and Wales Cricket Board (ECB).
In 2011 it saw turnover rise 38% to £146m - primarily as a result of hosting India in the summer and the additional overseas broadcasting revenue and match revenue this generated.
This, in turn, allowed the ECB to report a record pre-tax profit of £15.6m after having slumped to a loss in 2010 - its first for seven years.
For a sport so steeped in tradition, cricket has shown a desire of late to adapt and embrace change.
Putting aside the revolution heralded by the introduction of the Twenty20 format, the recent Morgan Review of the county game means a new domestic playing schedule will start in 2014.
This will see much of the T20 domestic competition - the prime revenue earner for clubs - being shifted mainly to Friday nights.
The move comes after a survey of 25,000 fans demanded more consistency in the staging of games.
The ECB has also proved itself adept at brokering lucrative long-term sponsorship deals for the sport.
It received a boost at the start of 2012, when Investec became the new title sponsor of England's Test match cricket for 10 years for a reputed £50m, the longest such agreement secured in the ECB's history.
Andrew Walpole, head of corporate communications at the ECB, says the sport is in a "very healthy position" and well placed to take advantage of the potential that 2013 holds.
He cites TV deals with Sky, the BBC and Asia-focused ESPN Star, which bring in over 70% of overall revenue, while pointing to the Morgan Review as an example of how the business of cricket is willing to evolve.
He also draws attention to the ECB's Professional Game Department, set up in 2012 to encourage county clubs to develop good business practices and diversify.
'Young stars'
Nigel Currie of Brand Rapport agrees that under the ECB, the game is "in safe hands", but says more could be done in terms of taking advantage of unexpected opportunities as they arise.
"A young star could come along and be an overnight sensation - like a Pietersen or a Flintoff - and you have to be prepared to take advantage of those opportunities," he says.
"It's not a sport where there are a huge number of heroes or role models. [The ECB] needs to get them more involved in all the sorts of grass-roots programmes that take cricket to the mass audience - these characters are hugely appealing to youngsters in particular."
There have also been claims that sponsorship is too narrowly focused, with the England team sponsor and all the competition sponsors made up of financial services firms.
Critics say the game could benefit from consumer brands sponsoring competitions and taking the game to the masses.
"While our current major title sponsorships - for example, the Test and One Day International series - are currently with financial services companies in Investec and NatWest, England cricket, and the sport in general, is also clearly attractive to more High Street and consumer brands," responds the ECB's Andrew Walpole.
He points to partners including Jaguar (official vehicle supplier), Buxton (official water), Yorkshire Tea (official brew), and Asda (Kwik Cricket - grassroots project).
Domestically, the county teams are also working hard to take advantage of the opportunities that modern business methods offer a very traditional game.
Embracing the Twenty20 format has paid dividends, with turnout for such games making up almost half of all attendance in 2011.
Grounds have taken on big sponsors in recent years, such as Emirates Old Trafford, Kia Oval, Headingley Carnegie Stadium, and Ageas Bowl.
Worcestershire recently secured planning permission to build a hotel at its ground, while Leicestershire is looking at a new apartment complex on site.
Using the data
Elsewhere, a recent campaign by Surrey County Cricket Club resulted in tickets for all five days of an Ashes Test match selling out before Christmas for the first time in the club's history, while simultaneously boosting membership.
"Normally, days one to four will sell by about January or February, but day five often goes up to April - and if it's not an Ashes year, then tickets sales go right up to the day before," says George Foster, head of marketing at Surrey.
The secret to Surrey's success was much better use of the club's databases and a novel approach to selling Ashes tickets.
"Before, we would send 250,000 people one email saying Ashes tickets were on sale, with no membership up-sell or anything else," Mr Foster says.
"We didn't have a handle on our data - who was who and who bought [tickets] when."
The club employed a consultancy to build a data warehouse of all its customer information, and also created a system that allowed communications to be tailored to individuals.
Instead of one blanket email, Surrey then sent out a series of 12 emails, each telling an interesting story from the history of the Ashes.
This gave the firm an excuse to send multiple emails over a three month period, using content that people were more likely to read.
Traditionally, Ashes tickets are made available to club members before anyone else, with the remainder going on general sale afterwards.
But for the first time, Surrey ran a ballot for the public before putting them on general sale, creating a surge in demand.
"We had no idea how many people would enter - we thought maybe 5,000 to 10,000," says Mr Foster.
Instead, the club received 46,000 entrants, dwarfing the club's membership roster of 8,500 people.
The club used the ballot to collect information on fans' preferences, giving it not only potential new members, but also insight into other events that might be of interest to them.
May fixture
The campaign was orchestrated by Gareth Balch of consultancy Two Circles, which works with all the first-class county clubs.
He thinks that as a business, English cricket has made big improvements recently.
"They are trying to understand what the customer wants - which formats they like and when," he says.
Challenges remain, including how to balance the traditional Test game against shorter, and increasingly popular, formats.
Then, of course, there is the damage done by corruption in the game.
Furthermore, a sport's success as a business is often predicated on the success of the players on the pitch.
And that performance begins again in May with another Test series against none other than England's recent tormentors, New Zealand.