Xstrata and Glencore merger date delayed again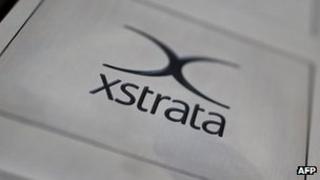 Xstrata and Glencore have once again pushed back the date for when they expect to complete their $35bn (£23bn) merger.
They now expect the deal to be completed by 2 May, not 16 April.
This is yet another delay for the deal, and is due to the ongoing investigation into the deal in China.
Glencore said it had held "constructive discussions" with China's Ministry of Commerce, The deal was originally meant to go through on 31 December.
The merger offer was first announced in February last year, when Glencore offered 2.8 shares for each Xstrata share. After months of negotiations, the offer was increased to 3.05 shares in September.
The merger date has been pushed back several times.
China's Ministry of Commerce of the People's Republic of China (Mofcom) is the only one of the world's main watchdogs to take national industrial policy into consideration in its decisions.
China - a major consumer of copper - is examining what market share a combined company would have in the market for copper concentrates.
"Glencore believes that it has had constructive discussions with [Mofcom] and that these discussions are now in their final stages," the group said in a statement.
"However, Glencore does not expect to receive the final decision from Mofcom in time for the merger to be completed by 16 April 2013."