Domino's Pizza sees strong sales growth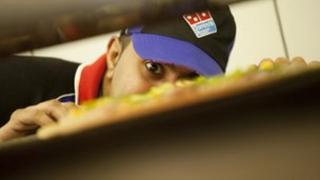 Domino's Pizza, the UK's biggest pizza delivery firm, has reported a strong rise in first quarter sales, boosted by new offerings and promotions.
UK like-for-like sales rose 6.6% in the first three months of the year, despite disruption from heavy snow.
Domino's said that 61.9% of UK delivered sales were ordered online, up from 49.8% a year earlier.
The group, which runs franchises in the UK, Ireland, Germany and Switzerland, said total sales rose 12.3% to £164.1m.
Sales from all online platforms were up 38.4% to £82.4m.
Domino's said it had seen a slow start to the year because of the snow disruption, but trading had picked up thanks to new products and a short-run buy-one-get-one-free offer.
Chief executive Lance Batchelor warned that the weak economic background meant that the company was expecting a "tough trading environment" in the year ahead, as well as "food cost increases".
Despite this he said he expected trading would be "in line with market expectations for 2013".