Vodafone and China Mobile make Burma mobile bid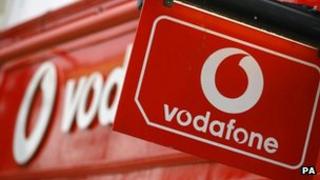 The two biggest telecommunications companies in the world have created a consortium to bid for mobile licences in Burma.
The licence, which is expected to be awarded in June, is to operate a nationwide network for 15 years.
The country has taken steps to reform its economy, but mobile phones remain too expensive for most people.
There is only 10% mobile penetration in Burma, which has a population of more than 60 million, according to Vodafone.
The government has said it wants to boost coverage to 80% by 2016.
That has led to a stream of companies hoping to take advantage of this newly-opened market.
"Myanmar will be an important new market for the global mobile industry," Vodafone and China Mobile said in their statement.
A separate consortium also indicated its interest. Billionaire George Soros' Quantum Strategic Partner has joined forces with Digicel and Serge Pun, a businessman in Burma, to bid for licences as well, they said in a statement.
Other companies bidding for licences include Singapore's SingTel, Qatar Telecom and Norway's Telenor.