Timpson to open 100 more branches despite profit fall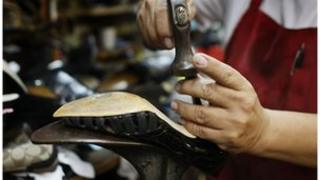 Cobbler and key-cutter Timpson says it plans to open another 100 branches, despite profits falling by a fifth this year.
The family-owned chain said pre-tax profit for the year to the end of September was £10.1m, down 21% on the previous year.
Despite the profit drop, Timpson said it was taking "a long-term view".
The new stores will be opened within supermarkets, giving Timpson a new total of about 1,100 UK branches.
Timpson said it had already opened 88 new stores within supermarkets in its past financial year, boosting its turnover by 3% to £136.5m.
The firm, which opened its first store in Manchester in 1865, blamed a "tricky time on the High Street" for its fall in profit, but said it continued to hold cash in the bank.
"Our link with supermarkets provides a substantial route to grow the business," it added.