Greek bank shares plunge after merger plans called off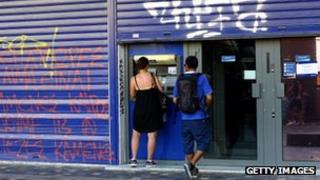 Shares in Greek banks have fallen up to 30% after plans to merge two of them were called off on fears the new entity would be too big to manage.
National Bank of Greece (NBG) and Eurobank fell by 30% in morning trade, while Alpha and Piraeus lost up to 20%.
On Sunday, a finance ministry source said a planned merger would not now go ahead, although the four would be recapitalised.
There had been fears a merged bank would be too dominant in the market.
Recapitalising the banks is a condition of Greece receiving support from the European Union (EU) and the International Monetary Fund (IMF).
The Greek central bank said: "The Bank of Greece confirms that the recapitalisation process for the four systemic banks [National Bank, Alpha, Eurobank and Piraeus] is proceeding normally and will conclude in April in any case."
It went on to say that all four banks had either already called or were set to call shareholder meetings to approve capital increases.
National Bank and Eurobank were several months into their merger process.
Greece's creditors - the EU, IMF and the European Central Bank - had said they were worried a new NBG-Eurobank entity would not only have about 40% of the Greek market, but would be hard to recapitalise.
The Bank of Greece announcement came after new talks between creditors and the Greek Prime Minister, Antonis Samaras.
The creditors' report will decide whether the country will receive a loan of 2.8bn euros, which had been hoped for since March.
The Greek Finance Minister, Yannis Stournaras, sounded confident the new money would be granted soon: "I believe that we will reach an agreement in the next few days."
Alpha Bank has called an emergency meeting of shareholders for Thursday, with Piraeus Bank arranging its meeting for Friday.