KPMG quits audit roles over insider trading allegations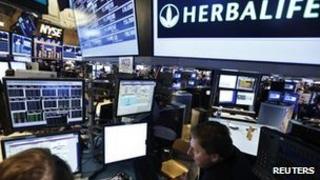 Accountancy giant KPMG has quit as auditor of two US companies amid an FBI investigation into alleged insider trading involving a former employee.
In separate announcements, nutritional products group Herbalife and footwear maker Skechers said KPMG had resigned.
The FBI's Los Angeles office is investigating allegations that a former KPMG senior partner passed inside information to a share trader.
The two firms said the claims did not call into question their own integrity.
KPMG said that as soon as the allegations came to light "the partner was immediately separated from the firm".
It added: "This individual violated the firm's rigorous policies and protections, betrayed the trust of clients as well as colleagues, and acted with deliberate disregard for KPMG's long-standing culture of professionalism and integrity."
The development comes at a difficult time for Herbalife, which has been at the centre of a dispute between well known investors Bill Ackman and Carl Icahn.
Nor does the issue help the reputation of the accountancy profession, whose auditing before and during the global financial crisis has come into question.
In 2005, KPMG paid a fine to settle tax evasion issues with US authorities.