India car sales decline for first time in a decade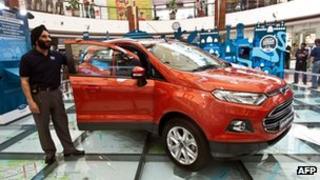 Annual car sales in India have dipped for the first time in a decade, underlining the impact a slowdown in its economy is having on key sectors.
In the 12 months to 31 March, sales dipped 6.7% from the previous year, according to the Society of Indian Automobile Manufacturers (SIAM).
That compares with SIAM's initial forecast of a 10-12% jump in sales.
The industry body said a downturn in the economy and high interest rates were key factors behind the decline.
"These figures have disappointed all our earlier forecasts, there has been a reversal in buying behaviour," said Sugato Sen, deputy director general of SIAM.
SIAM said the total car sales for the period were 1.89 million, compared with 2.03 million a year earlier.
Analysts and key industry players said that sales were likely to remain subdued until borrowing costs are brought down and the economy starts to pick up pace again.
"In the absence of any positive stimulus and sentiments... we foresee the pressure on volumes to continue until there is significant improvement in macroeconomic factors," said Rakesh Srivastava, senior vice president of Hyundai Motor's India unit.
Long-term impact
Just a couple of years ago India was one of the fastest growing car markets in the world, seeing annual sales increase by as much as 30%.
At that time, many analysts predicted car sales in India were on track to hit the 9 million mark by 2020.
However, things have changed dramatically since then.
Between March 2010 and October 2011, India's central bank, the Reserve Bank of India (RBI), raised interest rates 13 times.
Though the bank has announced three rate cuts since then, the cost of borrowing still remains high, with the RBI's key rate currently at 7.75%.
At the same time, India's economic growth has also slowed sharply, denting consumer sentiment and demand.
The economy is now forecast to have grown by 5% in the year to 31 March 2013, the slowest pace in a decade.
Given all these factors, the industry now thinks it is unlikely that car sales in India will meet earlier longer term projections.
"I don't think those goals are going to happen in that time frame" said RC Bhargava, chairman of Maruti Suzuki, India's number one carmaker.
"Things have changed a lot."