Spain's industrial output falls further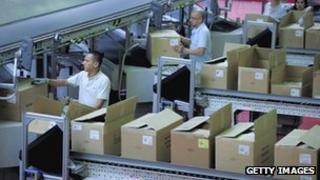 The rate of decline in industrial output in Spain increased in February, according to official figures.
Output dropped by 6.5% compared with the same month a year earlier. It followed a 4.9% decline in January.
Industrial production in the country has been falling constantly since August 2011.
Spain, which is the fourth biggest eurozone economy, has been mired in recession since the second half of 2011.
The country has one of the highest unemployment rates in the eurozone - at about 26%. It is suffering from a troubled banking sector, excessive household and company debts, and tough government austerity measures.
Meanwhile, figures showed that industrial production in France bounced back in February, gaining 0.7% on the previous month.
The French national statistics institute, Insee, also said that in the three months to February, industrial output was just 0.1% lower than in the previous quarter, although the manufacturing sector showed a bigger decline of 0.3%.
Analysts said the latest figures gave signs of hope for the sector.
"Today's outcome suggests that manufacturing output broadly stabilised in the first quarter, although sectoral surveys remain weak and do not yet point to a recovery," a research note from UniCredit said.