US retail sales see fall in March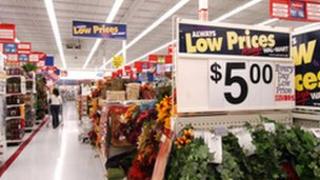 US retail sales fell in March across all sectors, official figures have shown, suggesting that recent tax rises are starting to affect consumers.
The US Commerce Department said consumers spent a total of $418bn, a fall of 0.4% on the previous month.
The decline was the second in three months.
Payroll tax increases were introduced earlier this year and analysts say these may have contributed to the fall in spending.
Sales were lower across the board. Car dealers, department stores, grocery stores, electronics retailers and sports goods shops all reported a fall in business.
Both January and February's figures were revised downwards, adding to the picture of a stalling US economy.
Although the US economy is expected to notch up growth of 2% this year it remains fragile.
Jobs figures released last week showed less than 90,000 new jobs were created last month. However, because the population is growing, that number is well below the rate of job creation needed to maintain employment levels.
The payroll tax rise that came into effect at the start of the year was a reversal of a cut introduced after the recession to boost spending.
The increase means that someone with an annual salary of $50,000 (£33,500) will take home $1,000 less this year.
Paul Dales, economist at Capital Economics, said he thought the slowdown would not prove prolonged.
"The surprise fall in retail sales in March adds to other evidence that the US economy is experiencing another spring slowdown," he said.
"But we doubt that the easing in economic growth in the coming quarters will be as severe as in recent years."