Cold weather payments hit record in March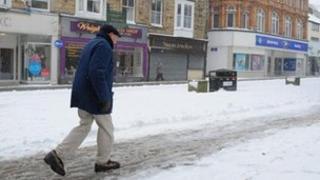 Cold weather payments hit a record level for March, with a total of 642,900 amounting to £16.1m in help towards energy bills.
These payments go to those on Pension Credit and many other income-related benefits.
Each seven-day period of freezing temperatures results in an automatic payment of £25 to eligible people.
The previous record number of payouts for March was 543,600, which was made in 2006.
However, even if the cold weather continues this year, the cut-off point for payments is 31 March.
Backdated claims
The payments, made by the Department for Work and Pensions, are aimed at ensuring vulnerable people - especially the elderly - are not tempted to keep the heating off because of financial worries.
After the payment is triggered it takes 10 days for the £25 to reach accounts.
Those eligible for the payments include those who receive Pension Credit, or income-related Employment Support Allowance, or are families with children aged under five who are in receipt of an income-related benefit.
"Anyone who thinks they might have missed out can make a claim for pension credit now and have any cold weather payments due backdated for the last three months," said Pensions Minister Steve Webb.
In total, £146.1m was paid in cold weather payments this winter, still well below the record of £430.8m in 2010-11.