Which? criticises bank complaint handling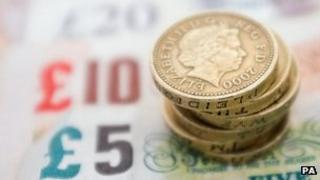 One-fifth of complaints to banks about current accounts are not being cleared up to the satisfaction of customers, according to consumer group Which?
Its survey of 2,000 people found 26% had problems in the last year, of whom two thirds complained; 22% of those who did so were unhappy with the result.
Which? said all banks needed "to do more to put their customers first".
The British Bankers' Association (BBA) said moves were already under way to improve complaint handling.
Customer service was one of the main complaints.
Kevin Silverwood, from Rochester, told the BBC he had been left confused when he asked the Halifax - part of Lloyds Banking Group - for advice: "I was given misinformation consistently when I wanted to sort out two accounts for my two children.
"I was told one thing on the phone and then another thing when I got in the branch. I specifically asked for their accounts to have gross interest, but this did not happen.
"I spent an entire morning in branch trying to sort it out, but I felt they didn't have the first clue. It's staggering any organisation can be as grossly ineffective."
'Best bank'
Which? executive director Richard Lloyd said the banks had work to do: "There's been a lot to complain about in banking over the last few years and to win back our trust they must sort out their complaints handling.
"When things go wrong it is critical that banks act swiftly and fairly to deal with the problem, identify what caused it and make sure it's not repeated."
A spokesman for the BBA said: "Banks take complaints handling seriously and are introducing initiatives to improve the service they offer customers such as the introduction of professional qualifications for complaints handling staff.
"In order to help further improve the service that customers receive, the BBA is establishing a Consumer Panel to bring together key consumer advocates and industry figures which will aim to identify any problems consumers are experiencing much sooner.
Which? questioned 2,000 UK bank customers in February.
The survey suggested that Lloyds TSB, with 30%, had the highest proportion of customers who had experienced a problem in the previous 12 months while First Direct had fewest, with 9%.
A spokeswoman for Lloyds said: "Our commitment to service is central to our aim of being the best bank for our customers.
"To do this, we'll continue to listen to our customers' feedback, focus on their needs and fix the cause of complaints and urge any customer who has an issue with their account to contact us."
The Co-operative Bank said the findings did not chime with its own: "We are now working with Which? to understand the research in more detail and will be addressing those areas in which we have fallen short as a priority."
However, it pointed out that the survey sample was small.
The Financial Conduct Authority (FCA) the Financial Services Authority's successor in regulating the financial services industry is bringing out its own customer complaints data on Monday.
It will show which firms and products received the most complaints over the past six months, and will include the latest numbers of those who complained about being mis sold personal protection insurance (PPI).