Citigroup profits see strong rise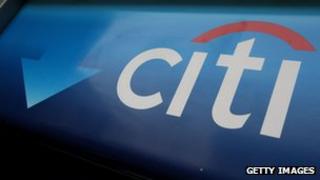 Citigroup has reported a 31% rise in first quarter profits to $3.8bn (£2.5bn), beating analysts' expectations.
The bank was helped by a solid performance at its securities and investment banking divisions.
The results were also boosted by the release of funds that Citigroup had set aside for bad loans.
Citigroup's profits were $1.23 a share, whereas analysts had predicted a figure closer to $1.17 a share.
The results included the release of $652m in loss reserves, of which $351m came from the Citi Holdings portfolio, which is largely made up of mortgage assets.
Citigroup - which is the third largest bank in the US - said that revenues at its securities trading and investment banking arms had risen by 31% to $6.98bn in the first three months of the year.
The profit also contributed to an increase in the bank's Tier 1 capital ratio, a key requirement under the Basel 3 international banking agreements.
The Basel 3 agreements were put in place to shore up the finances of banks and reduce the risk of another crisis in the sector.
The results are the first under Citigroup's new chief executive, Mike Corbat, after Vikram Pandit stepped down last year.
While Mr Corbat said the results were encouraging, he remained cautious.
"The environment remains challenging,'' he said, "and we are sure to be tested as we go through the year.''
On Friday, two other US banks also reported a large jump in first quarter profits.
The largest US bank, JP Morgan, said profits for the quarter had risen by a third to $6.5bn, while Wells Fargo, the fourth biggest bank in the US, saw net income rise by 22% to $5.2bn.