Energy firm SSE set to pay £1.5m in compensation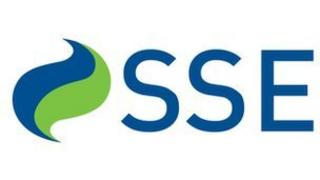 SSE, the firm that was fined for mis-selling energy contracts, says it expects to pay £1.5m in compensation.
The firm, previously known as Scottish and Southern Energy, was one of eight suppliers being questioned by MPs.
SSE said it had set aside a total of £5m to compensate its customers.
Earlier this month, SSE was fined £10.5m by the regulator Ofgem, which said it had been guilty of management failures that led to "prolonged and extensive" mis-selling.
Speaking to MPs on the Energy and Climate Change Committee, the company's deputy chief executive, Alistair Phillips-Davies, promised to compensate customers who lost money as a result.
"If any customer feels they've been disadvantaged since October 2008, they will be compensated," he said.
He said that 23,000 customers could have been affected, and the average compensation being paid out was between £65 and £70 each.
"If you multiply that up, that makes about a million and a half pounds," he said.
He said that SSE had placed adverts in national newspapers, and written to 10% of its customer base, to make them aware of possible compensation.
Mr Phillips-Davies said the company had altered its training and audit procedures, and it stopped selling contracts on the doorstep in 2011.
"As soon as we knew there was mis-selling, we took action, " he told the MPs.
"We've said we're sorry," he added.
Trust
MPs persistently asked the energy executives how they were going to rebuild trust in the industry.
"Do you have any conception of public mistrust?" asked the committee chairman, Tim Yeo.
"Particularly after what happened two weeks ago," he added, in reference to Ofgem's record fine for SSE.
"I would have thought for some customers, it would have decreased the level of trust," admitted Alistair Phillips-Davies of SSE.
"Although for others, it would not."
"We recognise the industry had lost the trust of customers," said Tony Cocker, the chief executive of E.On.
"But we are working hard to regain that trust," he said.
The chief executive of RWE Npower was also contrite on the issue.
"As an industry, we have not helped customers to build trust, because we have not given them the insight and visibility," said Paul Massara.
"We have to be more open and transparent," he said.
Juliet Davenport, the founder of Good Energy, which runs renewable energy projects, told MPs that the market needed further competition.
"Making sure there are more players in this market - that is the key to rebuilding trust," she said.
Ofgem is planning major changes to energy bills by the end of this year and, in the meantime, has produced a factsheet to explain charges to customers.
The Energy Bill, currently before parliament, will also force suppliers to put customers on the cheapest tariff for them.