US housing starts best since June 2008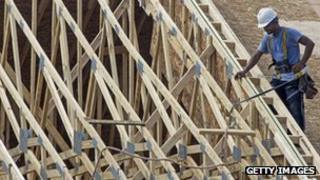 US housebuilders have notched up levels of activity last seen in June 2008 - at the tail-end of the economic boom - as the US housing market returns to vigour.
The Commerce Department said the pace of building was 7% higher in March than in February.
The number of properties started was running at an annual rate of more than one million.
The surge was driven by a boom in apartment building.
Increased activity was helped by a combination of low mortgage rates and rising prices, encouraging builders to believe they can make a profit on sales, demand for new homes and jobs growth.
March's rate of home building was 46% higher than in March 2012.
Starts on apartments rose 31% to the highest level since January 2006.
Building of single-family homes, which make up some 60% of the market, fell 4.8% to an annual rate of 619,000, although the department revised up its figure for February, saying starts were 5.2% higher than it had previously thought.
Activity in February was also at its highest level since the boom.
However, future activity may not keep up this rate of growth, since applications for building permits for the future fell 3.9%, to an annual rate of 902,000.