South African inflation at 5.9% in March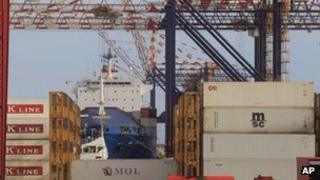 South Africa's annual inflation rate was 5.9% in March, unchanged on the previous month's figure but still much higher than the country's growth rate.
The official figure, from Statistics South Africa, is at the top of the central bank's target range of 3-6%.
South Africa is the continent's largest economy, but despite impressive growth in recent years expansion is slowing.
The central bank governor said this week she was worried about the prospect of stagflation.
Stagflation describes a state of high inflation and low economic growth.
Problems
South African's gross domestic product is expected to grow by 2.8% this year, held back by weakness in the eurozone, which is an important export market for the country.
While that rate is above forecasts for global average growth of 2.4%, other developing African nations such as Nigeria and Mozambique are notching up GDP gains of about 7-8%.
On Tuesday, the governor of South Africa's central bank, Gill Marcus, said stagflation must be stopped.
"If you've got slowing growth and rising inflation, it's not a place you want to be in," she told parliament, local media reported.
A report this week by the World Bank noted that sub-Saharan Africa as a whole should significantly outpace the global average over the next three years.
But it singled out another problem for South Africa, noting that incidents of violent labour unrest were a potential concern.