Bank of England still split over stimulus increase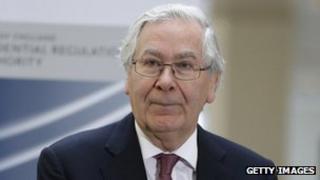 The Bank of England's rate-setting committee remains divided over whether or not to boost economic stimulus, minutes of its latest meeting show.
The Monetary Policy Committee (MPC) voted 6-3 against expanding the bank's current £375bn quantitative easing (QE) programme in its April meeting.
Bank governor Sir Mervyn King again called for a £25bn increase to QE.
The minutes show the MPC also "saw merit" in extending the government's Funding for Lending Scheme.
The scheme was launched in August last year as a means of encouraging banks to lend to businesses and individuals, by providing them with funds at low rates of interest.
But recent figures suggested bank lending had actually fallen at the end of 2012, and the Bank said lending had "so far remained subdued".
In his Budget speech in March, Chancellor George Osborne said the Treasury and the Bank of England were considering extensions to the Funding for Lending Scheme, which is due to end in January 2014.
Treasury ministers say it will take time for the scheme to feed money through to the real economy.
Meanwhile the Bank's minutes said "there continued to be a case for a further extension to [QE]".
It said the prospect of growth in the economy "remained subdued", and wage growth was slowing.
Inflation remains above the MPC's target of 2%, and is expected to rise further this year, but those supporting an expansion to QE said the committee should look beyond "temporary, even if protracted, periods of above-target inflation".
Sir Mervyn, Paul Fisher and David Miles voted to expand QE by £25bn to £400bn, but they were out-voted.
The other six members expressed concern about high inflation, said monetary policy was already "highly stimulatory", and added that the benefits of the existing QE programme would "continue to be felt".
The committee voted unanimously to keep interest rates at 0.5%, however.