Russian economic growth slows sharply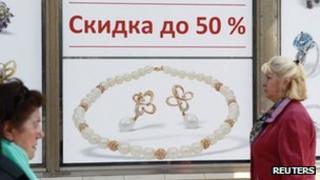 The pace of growth in the Russian economy, part of the once fast-moving Brics bloc of developing countries, slowed to 1.1% in the first three months of 2013.
The number contrasts sharply with the 4.9% notched up during the first three months of 2012.
The estimated figure came from deputy economy minister, Andrei Klepach.
He said the slowdown emerged after growth for January and February were revised down.
In February, the economy actually contracted by 0.4%, but a pickup in March itself helped boost the first quarter pace of growth.
Taking March on its own, the economy was 2.3% larger from a year earlier.
Last week, Russia revised down its forecast for economic growth this year from 3.6% to 2.4%, owing to slowing industrial output and consumer demand.
Other Brics nations, Brazil, India, China and South Africa, are themselves experiencing slowing economic growth.
Russia's economic minister, Andrei Belousov, warned recently that quarterly growth could turn negative before the end of the year.
"We are not in a recession yet, but we could end up there," he said.
Neil Shearing, from Capital Economics, said that Russia's economy had been hit by a weaker oil price and that the economy was likely to be sluggish for the rest of the year - although not entirely as a result of a weaker oil price.
He said: "Russia's economy is clearly worse off as a result of lower oil prices. After all, it is the world's second largest oil producer and oil and gas accounts for 60% of total exports.
"We expect growth in Russia to stay extremely sluggish in 2013-14 and our forecasts remain well below consensus. But this is largely due to structural factors that have caused trend growth to slow, rather than to the effect of lower oil prices."
Russian President Vladimir Putin has said that the global economic slowdown could damage Russia in the same way that it did during the credit crisis of 2008.
Meanwhile, Russian Prime Minister Dmitri Medvedev told Russian deputies on Wednesday that the country's slowdown was mainly caused by the weak economies of its trading partners.
He said there were "serious risks".