Savings: FCA hints it may act on 'teaser' rates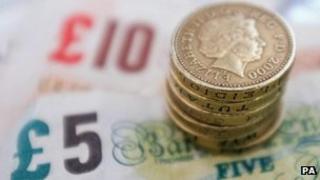 Action may be taken against so-called "teaser" rates on savings accounts, the Financial Conduct Authority has hinted.
These rates are typically offered by banks and building societies to attract people into taking out savings products, like ISAs.
But the headline, or teaser, interest rates, only last for a limited period, usually one year.
Such rates have already been criticised by consumer groups, and one of the new High Street banks.
Many customers keep their money in such accounts after the offer period has expired, rather than move it elsewhere.
As a result their savings can attract uncompetitive rates of interest, sometimes as little as 0.1%.
'Venus fly-trap'
Speaking at a conference in London, the chief executive of the Financial Conduct Authority (FCA), Martin Wheatley, accused lenders of "taking advantage of consumer inertia".
"The smart consumer switches at the end of that year to a new teaser rate," he said.
"What do most people do? - Nothing! They stay in these products like a frog boiled in water."
He suggested that the FCA was unlikely to ban teaser rates outright, but said it would be something they would look at.
It is not the first time that the boss of the new regulator has spoken about teaser rates.
"At their worst, they can be the financial equivalent of the Venus fly-trap, enticing consumers towards a product and relying on human inertia to keep them there," he said last week.
A poll for Consumer Focus two years ago found that two-thirds of savers who opened cash ISAs on an introductory rate failed to move when the rate expired.
Last year, the boss of Metro Bank, one of the UK's newest banks, said the use of such headline rates, or one-year bonuses, was dishonest.
Currently 16 out of 25 easy access savings accounts offer interest rates of 0.5% or less, after any introductory offers have expired, according to the website Moneyfacts.
Among those offering the poorest returns after introductory offers have expired are the Post Office, which subsequently pays an interest rate of 0.1% on its Instant Saver issue 4 account, and Lloyds TSB, which pays the same on its Easy Saver.
"Savers need to be vigilant when taking out a deal with an introductory bonus, because it does come down to the fact that it's their responsibility to keep on top of the rate of interest," said Rachel Springall of Moneyfacts.
The FCA took over the regulatory responsibilities of the Financial Services Authority on 1 April this year.