Mattel shares rise to 15-year high on results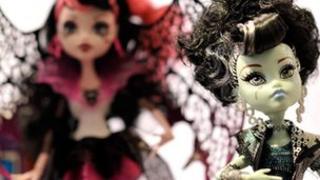 Shares in the world's biggest toymaker, Mattel, rose to a near 15-year high after results beat expectations.
Mattel's profits jumped to $38.5m for the January to March quarter, up from $7.8m a year earlier.
Sales at the company's best-known products, Barbie and Fisher-Price, both fell, but sales of it newer branded dolls, grouped under the Other Girl Brands category, rose 52%.
These include Monster High and American Girl dolls.
Sales worldwide were 7% higher than a year ago.
The profits were driven by cost control improvements and higher profit margins, which rose more than three percentage points.
Mattel said in its statement that the average profit on its toys had been 52.4% for the three months to the end of March and they were expected to stay in the "mid to low 50s" for the rest of the year.
The company has increased the price of its toys around the world, and has also started making products in countries where the toys are going to be bought, for example in the growing markets of Brazil and India.
The results were better than expected and gave the shares an initial 6% lift to a near 15-year high.
The number was more surprising as the first three months of the year are normally dull for toy makers, which rely heavily on Christmas sales for their profits.
About a third of profits are made during the festive period.