McDonald's sees fall in global sales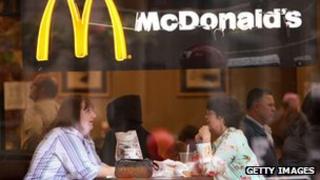 McDonald's has reported a drop in first quarter sales and says it expects sales to fall in April as well.
The world's largest restaurant chain said net income was marginally higher at $1.27bn in the quarter, but underlying global sales fell 1%.
The company blamed a "challenging" environment, which included a harsh winter in both the US and Europe.
As consumers tighten their belts, McDonald's is coming under increasing pressure from its competitors.
Yum Brands, which owns Taco Bell, Kentucky Fried Chicken and Pizza Hut, has changed its US menus recently to appeal to the thrifty spender. Burger King and Wendy's have also redesigned their offerings.
McDonald's has been heavily promoting its "Dollar Menu", which many analysts say is eating into the company's profit margins.
The sales and profit figures came in lower than expectations, and McDonald's shares were down 2% in morning trading on Wall Street.
McDonald's said that underlying sales in the US fell by 1.2% in the first three months of the year, with operating income down 3%. Despite this, it said it had "outperformed the competition and increased market share".
In Europe, comparable sales fell by 1.1%, which the company blamed on the "ongoing economic uncertainty" in the region.
"For the month of April, global comparable sales are expected to be slightly negative," said McDonald's president and chief executive officer Don Thompson.
"We are confident that we have the right plans in place to differentiate the McDonald's experience and strengthen our business momentum for the long term."