New energy tariffs still confusing, says Which?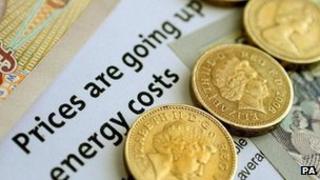 Reforms to energy tariffs could leave some consumers struggling to identify the best deal for their needs, a consumer group has warned.
Which? said that more than three million households could find it difficult to compare prices under plans to reform tariffs.
It has called for energy prices to be displayed in the same way as petrol prices.
The regulator said that the new system would prompt people to shop around.
'Too complicated'
Regulator Ofgem's proposed tariff comparison rate (TCR) aims to simplify energy tariffs and allow consumers to compare prices across the market.
It would work in a similar way to an APR used by financial services providers.
However, as it is based on medium usage of gas and electricity, Which? said that it would not be a relevant measure for many people.
This would include 500,000 low energy usage households, who could spend over the odds as a result of making their tariff choice based on the TCR.
"These current proposals are far too complicated and will fail to achieve their aim of making it easier for people to find the best deal," said Richard Lloyd, executive director at Which?.
"The government should introduce single unit prices for each energy tariff so people can easily see the best deal for them at a glance. Only then will people have the confidence to switch, injecting much needed competition into the broken energy market."
But an Ofgem spokesman said that the TCR was only one part of the reforms, which also featured a plan to ensure that bills included details of the cheapest tariff available by the start of next year.
Other changes to be introduced this year include:
a cap on the number of tariffs. Suppliers will only be allowed to offer eight (four for electricity and four for gas)
an end to multi-tier tariffs (e.g. the first 1,000 units at a higher rate)
banning price increases during a fixed-term contract.
"Our key goal is to try and get consumers engaged with the market as 70% are currently not taking part," an Ofgem spokesman said.
"Which? is misrepresenting the purpose of the tariff comparison rate and how it fits into the full scope of Ofgem's reform package. The tariff comparison rate acts as a prompt to consumers to take a look at comparative deals."
A spokesman for the Department for Energy and Climate Change said: "We are taking powers in the Energy Bill to ensure these vital reforms are not delayed or frustrated, and will shortly set out government action to bolster what Ofgem is already doing.
"This includes requiring suppliers to provide personalised estimates of potential savings and a tool to enable consumers to compare tariffs on a like for like basis."