House sales show limited spring bounce, HMRC data shows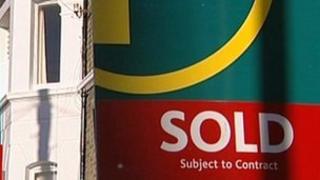 Sales of homes in the UK picked up in March but remained lower than the same month a year earlier, figures show.
Spring generally marks a rise in activity in the housing market, although the weather during the month was one of the coldest on record.
Sales rose to 81,140 in March, according to HM Revenue and Customs (HMRC), but this was 5,580 fewer than March 2012.
A number of housing commentators have predicted a pick-up in the market.
But sales activity and prices vary considerably in different parts of the UK, with London and the South East of England driving up the national average.
Predictions
The HMRC figures show that sales in March were much higher than the 61,940 completed in January, and 65,300 in February.
This is a typical trend, with activity picking up in the spring and summer months.
Various groups, including lender the Halifax, and the Royal Institution of Chartered Surveyors, have suggested some early signs of improvement in the housing market.
However, this remains very geographically dependent, and sales remain well below the levels seen at the peak of the market. For example, there were 139,780 sales in March 2007.
In Stoke-on-Trent, the city council revealed that more than 600 people have applied to buy rundown homes for £1 each.
Rental market
Slow sales could also affect the rental market.
A survey published on Friday suggested that average rent rose in England and Wales, up 0.5% on the previous month and 4.2% higher than March 2012.
This reversed four months of falling rents, with the typical rent rising to £735 a month, according to LSL Property Services.
"The regional picture remains more complicated. March witnessed even more divergence between London and the rest of the country. But the overall picture is clear. With only modest improvements in the UK's housing supply, rents will keep being forced upwards," said David Newnes, director of LSL, which owns Your Move and Reeds Rains.