BASF to cut 500 jobs worldwide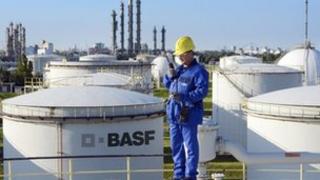 The world's largest chemicals maker, BASF, has said it will cut 500 jobs at its plastic additives and pigments divisions in the face of lower-cost competition from Asia.
The company says the jobs will be shed by 2015.
The biggest losses will be in Basel, Switzerland, where 350 jobs will be cut.
They come on top of a restructuring programme which aims to lift earnings by 1bn euros ($1.3bn; £850m).
The company said the current cuts were prompted by a "changed market environment".
It added it would make the cuts "in a socially responsible manner", and would try to find other jobs for those affected within other BASF companies.
BASF plans to move further into the area of specialised and higher profit-margin chemicals.
Last month, it said it was combining its water, oilfield and mining solutions businesses, resulting in about 200 job losses.
Last year, BASF also said it would make savings at its construction business, leading to the loss of 400 posts.