Singapore Airlines increases stake in Virgin Australia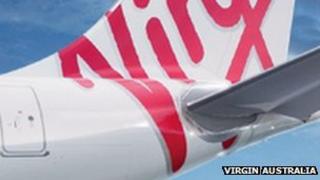 Singapore Airlines has increased its stake in Virgin Australia to tap into the Australian market and counter the strength of its rivals.
It has bought an additional 9.9% stake for A$123m ($126m; £83m), taking its total holding to 19.9%.
It comes a day after Australia approved Virgin's deal to purchase a controlling stake in Singapore Airlines' associate budget carrier Tiger Airways Australia.
Australia and Asia-Pacific are key growth markets in the aviation sector.
As a result, airlines have been keen to increase their presence in the region in an attempt to tap into the growing travel demand.
Last year, Qantas announced an alliance with Emirates in an attempt to strengthen its hold on the Australian market and boost its international operations from the country.
Analysts said that Singapore Airlines was keen to ensure that the Qantas and Emirates deal did not hurt its market share and that its deal with Virgin was an attempt towards countering that partnership.
"The deal between Qantas and Emirates will strengthen Qantas' international operations," said Siva Govindasamy of Flightglobal. "Singapore Airlines does not want to be hurt by that alliance.
"It gets a lot of cross feed of Australian passengers from Virgin and this deal is its way of strengthening that relationship and ensuring that the supply continues to grow," he added.
The deal is subject to approval from Australia's Foreign Investment Review Board.