Jockey Club offers Racecourse bond to general public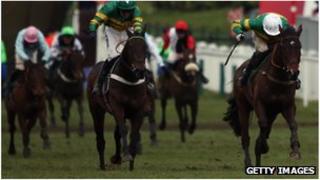 The Jockey Club is offering the general public the chance to invest in horseracing.
The club has launched the Racecourse Bond, the first time such a retail bond has been offered in British sport.
Punters can invest between £2,000 and £100,000 in the bond, which will pay the equivalent of 7.75% interest a year before tax.
The aim is to raise at least £15m for the development of Cheltenham Racecourse.
Interest payments on the bond will be split.
Investors will get 4.75% in cash and a further 3% in the form of Rewards4Racing points which can be used to get discount tickets, hospitality packages and racecards at the Jockey Club's racecourses.
Paul Fisher, Group Managing Director, Jockey Club Racecourses, said: "Several million people every year enjoy a day at the races, whether you are lifelong fan of the sport or just love a great day out.
"Our Racecourse Bond offers you generous cash returns at a time of rock-bottom interest rates, with a racing rewards element that can pay for your racing experience at any of our 15 courses nationwide."
The launch came after the Jockey Club announced its best ever set of financial results, with an operating profit of $19.8m on a turnover of £150.3m.