Boeing profits beat estimates despite Dreamliner crisis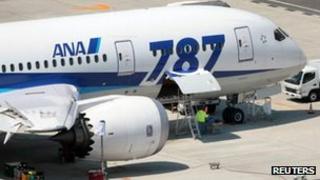 Boeing's first-quarter profits beat analysts' forecasts despite the grounding by airlines of its 787 Dreamliner due to battery problems.
Net income for the first three months of 2013 jumped 20% to $1.1bn (£720m) despite revenues down 2.5% to $18.9bn.
Chief executive Jim McNerney said Boeing would resume deliveries of Dreamliners in early May.
There are reports that Ethiopian Airlines may on Saturday be the first carrier to resume Dreamliner flights.
The plane was grounded in January.
In a statement on Wednesday, Mr McNerney said Boeing "worked around the clock to resolve the 787 battery issue while also successfully increasing production rates on the 737 and 777 programs.
"Our first priority in the days ahead is to fully restore our customers' 787 fleets to service and resume production deliveries. Our outlook for the year is positive, and our financial and delivery guidance is reaffirmed as we remain focused on the profitable ramp up in commercial airplane production rates."
Mr McNerney added that Boeing would have fitted most of the replacement batteries to the 787 fleet by the middle of May.
Boeing did not release an estimate for the cost of the Dreamliner problems, as some analysts had expected.
Batteries overheated on two of the new jets in January and led regulators to ground the aircraft.
The US Federal Aviation Administration approved Boeing's fix for the battery system last week.