Optimism fuels US economic recovery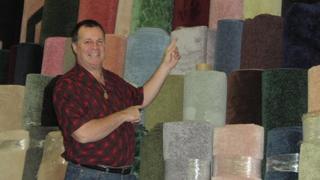 Carpet store owner Jerrold Glick has been through three recessions. So when he says he sees signs of improvement in the economy, he is talking from experience.
He set up his business, JAG Carpet and Rugs, in Jamaica in the New York City borough of Queens in 1993, and has 45 years' experience in the industry.
"I definitely see an opening up in business, though not very rapidly," Mr Glick says.
"It's happening very slowly but it has been improving over the past six months."
'Willing to relax'
JAG started off as a mainly wholesale business, but now the majority of its trade is on the retail side.
The neighbourhood of Jamaica was hit hard by the crash in the housing market with many homeowners protesting against enforced foreclosures.
"The retail stores that I used to sell to stopped buying stock because they had no business," Mr Glick says.
So he adapted and now most of his customers are members of the public, who come to him direct for their fitted carpets, or printed hallway and stairway runners.
Over the past few months, he says he's seen more customers - both in store and online - and has been helped by an improved housing market.
"I've seen real estate prices go up in the home market. People are bidding above the asking price.
"People are willing to relax more."
Hiccups
The recovery in the US housing market has gathered steam in recent months.
But among the whole array of data available on the housing sector, there have been a few contradictions.
For instance, government figures have shown housing starts to be at the highest level since 2008 and that sales of new homes rebounded in March, yet a survey by the National Association of Home Builders (NAHB) showed a drop in confidence in April.
"There have been a few signs of hiccups, such as the homebuilders' survey which was a little weakish," says David Sloan, senior economist at the research group 4Cast.
"The NABH survey paused, and existing home sales seem to have lost momentum in recent months. However, I think it is just a pause, and the housing market recovery seems to be intact."
He adds that in some places prices are up 10% on the year.
'Shock' impact
That recovery helped boost consumer spending at the start of the year, though Mr Sloan also points to other factors such as car sales as being an important contributor.
But the resurgence in consumption and overall economic activity in January and February seemed to dissipate somewhat in March.
While Americans initially shrugged off higher payroll taxes introduced in the new year, by March the tax hikes had had a bigger impact on spending, leading to a drop in retail sales.
And recent confidence surveys have also seen falls as US federal budget cuts - known as the sequester - that came into force at the start of March have knocked sentiment.
But Millan Mulraine, director at TD Securities USA, believes the budget cuts may only hit confidence for a month or two: "After that [initial] shock there may be some adjustment and we may have seen that been made."
Moreover, he says there is "not necessarily a contemporaneous relationship between spending and confidence".
Just because you may be feeling a little less buoyant, does not mean you will necessarily spend less than the day before, he says. It takes time to filter in to spending.
Although we may be heading into a "soft patch" for both the overall economy and consumer spending - the so-called "spring swoon" - Mr Mulraine expects spending to remain robust throughout the year.
He highlights differences between what we've seen this year compared with previous years: "The stabilisation in the labour market and the rise in house prices is the opposite to what we've seen in the past."
Cautious optimism
The view that consumer spending, which accounts for 70% of the US economy, will hold up in 2013 is widely held.
Diane Swonk, chief economist at Mesirow Financial, wrote earlier this month that "2013 could be the strongest year (of this recovery) for consumer spending".
But she also warns that not all will benefit equally. High rent costs and the need to pay back student loans will leave young consumers feeling "left behind by this economy".
This will also result in uneven gains across spending categories, with spending on "big-ticket" household items and vehicles likely to increase more than on everyday discretionary purchases.
Back in Queens, Jerrold Glick is cautiously optimistic that things will continue to get better.
When business was really bad in 2009 he had to cut whatever expenses he could. He only had three people working for him at the time and had to reduce that to two staff working part-time.
Now he says: "Hopefully by the end of the year they will be back full-time if things keep progressing."