Hyundai Motor profits drop 15%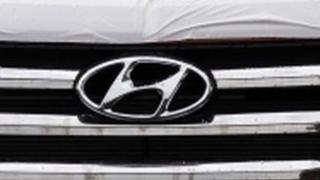 South Korea's Hyundai Motor has reported a 15% drop in first quarter profit, after being hit by industrial action and the strength of the won.
For the three months to March, net profit came in at 2.1tn Korean won ($1.9bn; £1.2bn) compared with 2.5tn in the same period a year ago.
Since January, the Korean won has appreciated by 4.5% against the US dollar.
Industrial action has also hurt Hyundai's ability to increase capacity.
Production hit
Analysts said Hyundai had been hurt by the unfavourable exchange rate environment.
The strong won has made Hyundai's vehicles less price competitive when compared to their Japanese rivals. The yen has depreciated by more than 10% since January giving a boost to Japanese car makers.
In addition, frequent work stoppages by Hyundai's unionised workers also affected the carmaker's earnings.
Hyundai's labour union again refused to work last weekend - the seventh straight weekend of industrial action.
The latest stoppage resulted in production losses of about 50,000 vehicles which would cost the company nearly 1tn Korean won.
The quarterly earnings statement also revealed weak demand in the eurozone market, which led to an 11% drop in annual sales in the first quarter of the year.