London house prices race ahead of the rest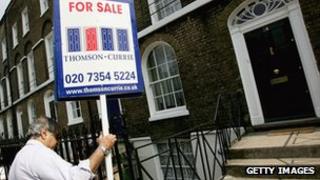 The contrast between rising house prices in London and falling prices elsewhere continues to grow.
The Land Registry said that house prices in London are at a new high, while prices across the north of England continue to fall.
The average selling price of a London property has now reached a record £374,568.
Prices in the capital soared by 9.4% in the past year, the sharpest increase for nearly three years.
In England and Wales as a whole, prices rose 0.9%, an increase driven by the London market.
The average price of a property in Kensington and Chelsea is now £1.1m.
Houses or flats in the capital cost more than double property elsewhere, where the average price is £161,793.
Jonathan Hopper, of the property search company Garrington, called it "an extraordinary rate not seen since the heady pre-crash days".
"The danger of overheating should not be dismissed," he warned.
In the doldrums
At the same time, property-owners in much of the north of England continue to see the value of their home decline.
In Yorkshire and Humber, prices fell by 0.8% over the last year.
In the East Midlands, prices fell by 0.7%.
But the biggest price falls were in the North West (-4.9%) and the North East of England (-5.5%).
The number of properties being sold has also fallen, suggesting the housing market as a whole remains in the doldrums.
Between October 2011 and January 2012 an average of 56,445 properties were being sold a month, compared with 54,810 a month in the same period a year later.