Qatar Foundation Endowment buys Bharti Airtel stake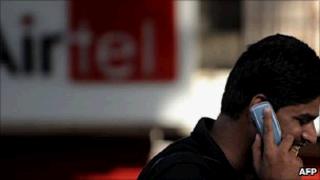 India's largest mobile phone operator, Bharti Airtel, has agreed to sell a 5% stake in itself to the Qatar Foundation Endowment (QFE).
The Qatari investment vehicle will acquire new shares in Bharti for $1.26bn (£810m).
The deal comes as the Indian telecom firm looks to strengthen its finances.
Bharti posted its 13th successive drop in quarterly profit on Thursday, with a near 50% fall in profits compared with a year earlier.
It made a net profit of 5.1bn rupees ($94.7m; £60m) during the quarter, down from 10bn rupees during the same period last year.
Indian telecom firms more generally have been struggling with rising costs and narrowing profit margins in recent years.
The QFE is the investment arm of the Qatar Foundation - a non-profit organisation wholly-owned by the Qatari royal family.
Rashid Al-Naimi, chief executive of the QFE, said that the investment in Bharti was a long-term one.
He said the deal would give the investment vehicle an "exposure to a high-growth sector in key emerging markets".
Sunil Bharti Mittal, chairman of Bharti said: "This strategic partnership with QFE demonstrates the confidence they have in us and our strategy for growth."
Shares of Bharti rose as much as 4.7% on news of the deal.