Kaesong: crucible for inter-Korean frustration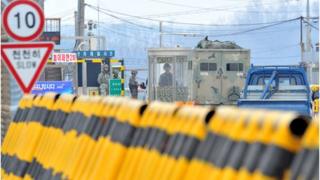 South Korea is offering $270m (£174m) of support to companies locked out of the jointly run industrial zone at Kaesong, inside North Korea. But will it be enough to offset the tarnished image of economic ties?
On a June day, ten years ago, hundreds of officials from North and South Korea mingled in the heat, near the ancient city of Kaesong.
They had gathered for a groundbreaking ceremony to mark the birth of a new jointly run industrial complex, on the northern side of the border.
The new project would, according to Chung Mong-hun, chairman of the South Korean conglomerate, Hyundai, "symbolise the beginning of active economic co-operation between the two Koreas".
Ri Jong-hyok, from the North Korean side, said the complex reflected his "whole nation's wish for reunification" with the South.
But, ten years on, something has gone wrong.
Ghost town
Inside the Kaesong complex, neat rows of modern warehouses stand silent, their factory floors largely empty, their workers gone.
Over the past month, Kaesong has been reduced to a ghost town, thanks to worsening political relations: its 53,000 North Korean workers withdrawn, its South Korean managers barred from entering.
The complex had withstood years of tensions - the sinking of a South Korean warship, the shelling of a South Korean island, and North Korean nuclear and missile tests. When other joint projects failed, this toehold on a better future for the two Koreas remained.
But as tensions spiralled this year after North Korea's third nuclear test, Kaesong has become the canvas for inter-Korean frustration.
North Korea stands to lose much financially from the suspension of operations there. It desperately needs hard currency, and its Kaesong workers bring in around $90m in wages, most of which is reportedly paid to the communist state.
And in a country like North Korea, which struggles to provide basic food and infrastructure for its citizens, the impact on the families and wider community of those 53,000 workers is also a risk, as are the effects this sudden suspension may have on other potential investors in the aid-reliant country.
But South Korean companies are also losing out.
Unique advantages
Yoo Dong-ok has two factories inside Kaesong. His company, Daewha, was one of the industrial park's founding members, making fuel pumps.
Since North Korea suspended operations last month, he says, "20% of the orders have been cancelled or reduced" because of the uncertainty over the zone's future, and clients are becoming nervous about the "stigma" of goods 'Made in North Korea'.
The South Korean government is carrying out a special investigation into losses incurred by the 123 companies with facilities at Kaesong, with the promise of further support in the offing.
The companies themselves estimate their damages at around $1.8bn, including investments, operational costs, raw materials and client confidence. They say that thousands of their secondary suppliers are being hit too.
If the complex is closed indefinitely, those estimates spiral to more than $5bn.
Because of this, says Prof Lim Eul-chul, an expert on Kaesong at Kyungnam University in South Korea, the government's new package of support isn't being seen as sufficient.
"Most companies want to go back to the complex," he says. "The compensation package will be helpful in terms of maintaining production lines temporarily, but in terms of a permanent measure, it will be very difficult for the government to satisfy them."
That is because Kaesong offers a unique set of advantages for South Korean companies. It is "the best place for our companies to operate in the world", according to Prof Lim.
Wages in North Korea are very low; a basic monthly wage is around $80, "a third of the price in China", according to one company director.
There are no unions to negotiate with, no customs, and transport costs are low. Kaesong lies just six miles (10km) across the border).
The turnover of workers is extremely low, and they share a language and culture with their employers - a rare advantage in training and management.
So there is a lot to recommend the project economically, on both sides.
'Last divided nation'
But what about the political motivations? Has the fate of Kaesong undermined the belief - prevalent in South Korea during previous administrations - that economic ties are the way to build a better relationship with the North?
Mr Yoo says he feels some responsibility "as a citizen of the world's last divided nation".
He told me: "Because of recent event, a lot of the entrepreneurial spirit among companies in Kaesong has dampened, but I feel this is the only way for the two countries to grow together.
"Look where the six-party talks [involving the North, the South, China, Japan, Russia and the US] have taken us. Forget political or military solutions, economic ties are the only way to unite our two countries."
Prof Lim agrees: economic exchange and co-operation are the best way to improve the livelihood of North Koreans as well as smaller South Korean companies, he says.
But the situation now has reached the point, he believes, where intergovernmental talks are the only way back from permanent closure.
"It's a game of chicken" he told me. "Neither North Korea nor South Korea are showing any willingness to give up their original stance."
Last month the South gave the North 24 hours to respond to an offer of talks, or face "grave measures". The North dismissed the request.
'Unconditional dialogue'
Relations have certainly changed from the historic inter-Korean summit in 2000, when the idea of opening a joint industrial complex was first agreed.
Now, in order to save the complex, Prof Lim is looking to another summit - not between North and South this time, but the one planned in Washington this week between President Obama and his South Korean counterpart, Park Geun-hye.
"If Obama sends positive signals to Pyongyang," Prof Lim says, "maybe Pyongyang will talk to the South. But the US needs to offer unconditional dialogue with North Korea - they should not attach any kind of conditions."
The US has repeatedly said it will not buy the same horse twice when it comes to dealing with North Korea, and that Pyongyang must show it is willing to get rid of its nuclear weapons before sitting down to another round of talks.
But with the process apparently stuck between North and South as well, and concerns over Pyongyang's nuclear programme growing, all eyes will be on the outcome of that Washington summit.
That high-profile meeting may be a world away from the warehouses of Kaesong, but in the words of Prof Lim "it will be a big moment in determining whether dialogue between the two Koreas will begin".