Societe Generale mulls hundreds of job cuts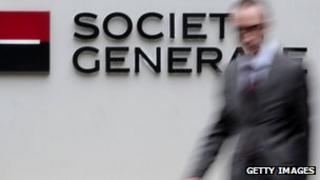 France's Societe Generale has said it is considering cutting hundreds of jobs to boost profits amid a weak economy.
The country's second biggest bank said it was discussing with trade unions a plan to cut 550 administrative jobs in its Paris headquarters.
The announcement came as it reported a 50% fall in net profits in the first quarter due to the weak French economy.
It made a less-than-expected 364m euros ($476m; £307m) in the quarter, and announced a big cost-cutting drive.
A Societe Generale spokeswoman said that the lender was looking to cut 620 jobs while creating 70 new positions at the same time, putting the total number of job losses at 550. The bank employs some 60,000 people in France, out of a global workforce of about 154,000.
Shares rose 5% as investors welcomed the news.
The bank is aiming to cut 900m euros in costs over the next three years to shore up its balance sheet and improve its competitiveness against other rivals. The reduction is on top of 55m euros of cuts made last year.
Separately, France's number three bank, Credit Agricole, reported a 51% rise in quarterly profits to 469m euros, helped by the sale of its loss-making Greek unit.
Credit Agricole said the increase was largely due to it having sold its Greek subsidiary Emporiki Bank. In the same quarter last year, the bank had swallowed 907m euros in losses related to the Greek unit.
Boosting the bottom line
Societe Generale's chairman and chief executive chairman Frederic Oudea said the bank's cost cutting efforts would lead to a total of about 1.5bn euros in savings during the 2012-15 period.
The bank has already sold a number of businesses over the past year, including subsidiaries in Greece and Egypt, to cut its exposure to risky businesses.
"By the end of the group's transformation at end-2015, the Societe Generale group, helped by businesses adapted to the new economic and regulatory environment in Europe, will be in a position to generate a ROE [return on equity] of 10%," said Mr Oudea.
The return on equity is a measure of profitability that looks at how much profit a company generates with each euro of capital invested by shareholders. A higher ROE is better, as it shows how efficiently shareholder's capital is being used to yield profit.
"What is impressive is SocGen's capacity to cut its cost base," said Yohan Salleron, fund manager at Mandarine Gestion. "The target they announced is pretty significant."