Toyota profits double as yen continues slide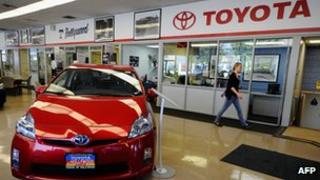 Toyota's profit more than doubled in the three months to March as a weakening yen and improved sales boosted the carmaker's comeback.
Net income rose to 313.9bn yen ($3.2bn; £2bn) up from 121bn yen for the same period the previous year.
Toyota also forecast a profit of 1.37tn yen for the next financial year, up from 962bn yen this year.
Japan has recently taken monetary steps to weaken the yen, a move that benefits exporters such as Toyota.
Japanese carmakers including Toyota have seen a recovery after the 2011 tsunami and earthquake disaster disrupted supply chains and hurt production.
Sales have recovered in the US and in key Asian markets.
Toyota also cited the weakening yen as a factor in the positive figures. The Japanese currency has lost about one-fifth of its value against the US dollar since November.
A weak yen helps boost Japanese firms' competitiveness overseas and also boosts the value of their foreign income when it is repatriated back home.