News Corp profits boosted by cable television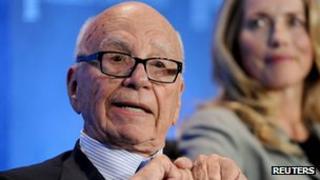 Rupert Murdoch's News Corp has reported better-than-expected results on the back of growth in its television and entertainment businesses.
The company's net income for the first three months of the year was $2.85bn (£1.83bn), up from $937m a year ago.
However, the figure was boosted by big one-off items, including the purchase and sale of television networks.
Underlying operating profits revealed a divide between News Corp's publishing and entertainment businesses.
Operating income from publishing, which includes newspapers such as the Times and the Wall Street Journal, as well as the HarperCollins book business, fell 35% to $85m.
Operating income in entertainment, which includes Fox News, FX and US sports networks, rose 17% from a year ago to $993m.
News Corp said it was on course to split its publishing business from its more successful entertainment arm by the end of June.
Mr Murdoch, News Corp's chairman and chief executive, said the performance boded well for the future.
"As we make progress toward the proposed separation of our entertainment and publishing businesses later this year, I am confident in the future prospects for both businesses," he said.