EADS profits up on Airbus deliveries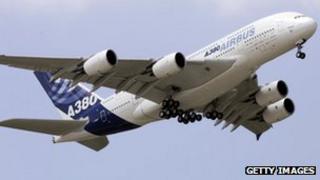 The parent company of Airbus, EADS, has reported a sharp rise in profits for the first three months of the year.
Operating profits at the company rose by 56% to 741m euros ($963m; £629m) in the quarter.
Much of the rise was down to higher production at its Airbus subsidiary, where revenue climbed by 16%.
Last year, Airbus slipped behind Boeing in terms of civil aircraft deliveries, having been ahead between 2003 and 2011.
Airbus said it had delivered 144 aircraft between January and March, up from 131 in the same three months last year.
EADS restated its forecast that it would increase deliveries of commercial jets this year to between 600 and 610, as demand continues from airlines in the Middle East and Asia.
'Good start'
Net profits for the quarter nearly doubled compared with the same period in 2012, to 241m euros ($314m; £204m).
Chief executive Tom Enders said the company "had a rather good start into 2013" and remained focused on improving profitability "in 2013 and beyond".
However, EADS said that it had spent a significant amount of cash to boost its inventories for its new projects.
The aerospace giant beefed up the working capital at Airbus and its helicopter unit Eurocopter.