Sony investor Daniel Loeb urges company break-up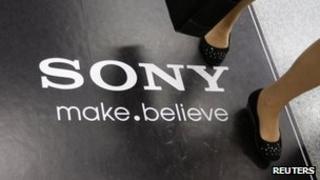 One of Sony's biggest shareholders has suggested that the Japanese firm should spin off up to 20% of its entertainment business and use the money to shore up its struggling electronics arm.
Daniel Loeb, founder of US hedge fund Third Point, put forward the idea in a letter to Sony president Kazuo Hirai.
Sony's US-traded shares jumped more than 10% on Tuesday.
Sony said in a statement that its entertainment division was not for sale.
Last week Sony reported its first annual profit for five years, but its results were boosted by asset sales and a weakening yen.
Its electronics business has continued to struggle, particularly its TV division, which has been loss-making for the past eight years.
Third Point holds a 6.5% stake in Sony.
'Burdensome debt'
While Sony continues to be known for its electronics, many people would be surprised to learn that much of its current value is derived from its film and music division, Mr Loeb said, describing the entertainment business as a "hidden gem".
Last Updated at 18 Aug 2017, 19:59 GMT
*Chart shows local time
price
change
%
38.77

-

-0.23

-

-0.59
Its music label houses artists such as Taylor Swift, Beyonce and Adele, while its film studio is one of the biggest in Hollywood and was behind the latest James Bond film, Skyfall.
"Like many conglomerates we have invested in previously, Sony has two strong businesses facing different challenges side by side, each obscuring the other's true worth," he said in his letter, which was published in the New York Times.
"To maximise Sony's overall success, we believe the company should change the structure of its ownership of Sony Entertainment.
"Doing so will strengthen Sony by reducing its burdensome debt, thereby providing additional resources and capital to focus on revitalising the resurgent Sony Electronics."
Sony, however, rebuffed the idea.
"As president and CEO Kazuo Hirai has said repeatedly, the entertainment businesses are important contributors to Sony's growth and are not for sale,'' the company said.
"We look forward to continuing constructive dialogue with our shareholders as we pursue our strategy.''
Activist shareholder
Mr Loeb made headlines last year when he lobbied for the dismissal of then-Yahoo chief executive Scott Thompson after discovering that he did not have the computer science degree that he claimed to hold.
Mr Thompson eventually quit the company and was replaced by Marissa Mayer.
Outspoken shareholders like Mr Loeb are relatively rare in Japan. Shareholder meetings do not normally see company agendas challenged.
But the country is currently seeing more interest from global investors as Prime Minister Shinzo Abe, elected last year, has promoted easy money policies designed to boost economic growth and attract private investment.
Mr Loeb expressed his support for Prime Minister Abe in his letter: "Sony stands at the crossroads of compelling corporate opportunity and massive Japanese economic reform.
"Under Prime Minister Abe's leadership, Japan can regain its position as one of the world's pre-eminent economic powerhouses and manufacturing engines."