Walmart outlines own Bangladesh safety plans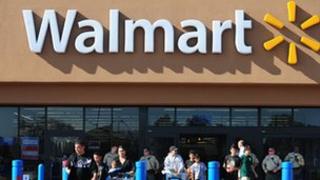 Walmart, the world's largest retailer, will conduct its own safety inspections at its Bangladesh factories instead of joining an accord with other retailers.
More than 1,100 people died when the nine-storey Rana Plaza building in Bangladesh collapsed on 24 April.
Labour groups have since drawn up an industry-wide pact to improve fire and building safety conditions.
But Walmart, along with several other US retailers, said it would not participate.
Walmart plans to perform its own inspections at its 279 factories, saying that will yield faster results.
The company also said every worker would be provided with fire safety training.
More than a dozen European companies, including discount clothing company Primark and UK supermarket chain Tesco, have signed up to the legally binding "Accord on Fire and Building Safety in Bangladesh".
European non-governmental organisations IndustriALL and UNI Global Union, which had drafted the agreement, had set a deadline of 15 May.
Global response
The response comes after Western companies were criticised for not doing enough to protect low-paid workers following several safety incidents in Bangladesh.
This includes a fatal factory fire last November at the Tazreen Fashions plant, which supplied goods for Walmart and other Western retailers.
The incident, which killed more than 110 people and triggered large protests in the capital Dhaka, led Walmart to cut ties with the supplier and initiate its own inspections.
The International Labour Organization, meanwhile, has welcomed the new accord, saying in a statement that it "stands ready to provide appropriate support to this initiative in response to the requests of the signatory parties, to help ensure effective implementation and coordination with national organizations", noting the "critical need to reform the country's labour law to bring it in line with international norms".
Bangladesh's government has also moved to reassure Western buyers, given garments make up 80% of the country's exports.
On Monday, they announced steps aimed at improving conditions, such as raising the minimum wage for workers in the industry and making it easier for them to form unions.
Bangladesh's minimum wage for garment workers is currently $38 (£25) a month, the lowest in the world.