Severn Trent rejects takeover approach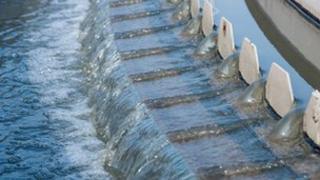 Water supplier Severn Trent has rejected a preliminary takeover offer from international investors.
In a statement, the company said the proposal "completely fails to recognise the existing and potential value of Severn Trent".
It did not reveal details of the offer, but earlier reports suggested it could value the business in excess of £5bn.
The approach was made by a consortium led by a Canadian infrastructure firm and a Kuwaiti investment fund.
Severn Trent supplies water to 7.7 million people in Wales and the Midlands.
It was privatised along with other UK water boards in 1989, and it is the latest UK water company to be targeted by private investors.
'Modest premium'
Severn Trent said it had met the consortium for the first time on Tuesday, having earlier made an announcement confirming the approach.
"At that meeting, a conditional proposal was tabled by the consortium at only a modest premium to the share price before the announcement [of the approach]," Severn Trent said.
News of the approach caused Severn Trent's share price to jump by nearly 14% in trading on Tuesday.
Shares fell 2.7% as trading opened on London on Wednesday.
The consortium consists of Canada's Borealis Infrastructure, the UK arm of the state-backed Kuwait Investment Authority, and the Universities Superannuation Scheme - a pension fund.
It is not clear whether the consortium will now make a revised offer.
UK utility companies have proved attractive to international investors in the past.
Both Thames Water and Yorkshire Water have been bought by consortiums including Far East sovereign wealth funds in recent years.