EU may probe China over illegal telecoms firm subsidies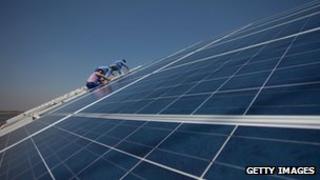 The EU has warned it may investigate claims that Chinese telecom firms have been paid subsidies, allowing them to flood markets with cheap equipment.
The EU fears that illegal payments may be helping firms such as China's Huawei Technologies and ZTE, at the expense of European producers such as Ericsson.
However, the EU will not act immediately, in the hope that a deal can be reached between the two sides.
China is the EU's second-biggest trading partner, after the US.
"The European Commission has today taken a decision in principle to open an ex officio anti-dumping and an anti-subsidy investigation concerning imports of mobile telecommunications networks and their essential elements from China," said Commissioner Karel De Gucht in a statement.
"This decision will not be activated for the time being, to allow for negotiations towards an amicable solution with the Chinese authorities. I will revert to the College of Commissioners in due course."
China reaction
China has denounced the move, saying the investigation would hurt bilateral relations.
Shen Danyang, spokesman for the Chinese Ministry of Commerce, said China would take "assertive" measures to "defend our lawful interests and rights" according to WTO rules and Chinese laws.
"Any consequences caused must be borne by the party who provoked the friction," he said.
Exports of Chinese telecom equipment to the EU are worth about 1bn euros ($1.3bn; £846m) each year.
Typically, such inquiries are conducted following formal complaints from companies. But in this case, the EU Commission moved on its own and is not supported by all member states, nor by companies such as industry leader Ericsson, which controls about 35% of the mobile equipment market.
In a statement to Reuters, Ulf Pehrsson, Ericsson's head of government and industry relations, said the firm supported free trade but "don't believe in this type of unilateral measure".
Trade friction
The EU is holding 18 trade investigations into China and the latest case risks further inflaming trade tensions between the two sides.
Over the past three years, officials have moved to protect various industries from Chinese rivals, such as paper, steel and bicycles.
According to Bloomberg, China faces more EU anti-dumping fines than any other country.
The largest inquiry to date is into whether China illegally dumped solar products. According to reports, Brussels plans to impose anti-dumping taxes of up to 68% on Chinese imports.
The EU on Wednesday also announced plans to impose punitive duties of up to 36% on Chinese imports of ceramic tableware, saying the products were being sold at artificially low prices.
Such tariffs are normally valid for five years.