Glencore Xstrata: former BP boss Tony Hayward made interim chairman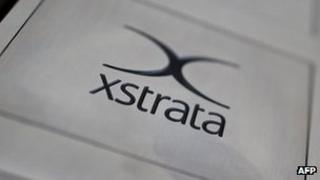 Glencore Xstrata shareholders have overwhelmingly voted in favour of Tony Hayward, BP's former chief executive, as interim chairman of the newly merged group.
Shareholders opposed the re-election of chairman Sir John Bond at the company's first annual general meeting.
Sir John had been criticised over his insistence on multi-million-pound bonuses for top Xstrata managers.
The tie-up between the two natural resources firms was completed on 2 May.
Mr Hayward, who resigned from BP in the wake of the 2010 Deepwater Horizon oil rig disaster, became a senior independent director of Glencore after the commodities group listed on the stock market in 2011.
Once a successor to Sir John is found, Mr Hayward is expected to step back to his previous role.
Sir John, former chairman of Vodafone and HSBC, acknowledged his unpopularity at the shareholders' meeting in Switzerland, saying: "I recognise and respect the strong opposition among many to the retention arrangements which the board felt appropriate to ensure management stability."
He had agreed in November to resign as chairman after he was criticised for insisting on a £140m-payout plan to retain Xstrata managers after the merger with Glencore.
'Refreshment of the board'
The shareholders' vote simply sealed his departure, which was supported by 81% of the investors.
Shareholders also opposed the re-appointment of three other Xstrata directors - Con Fauconnier, Peter Hooley, and Ian Strachan.
Anne Fraser, head of corporate governance at SWIP, one of Glencore Xstrata's largest shareholders, said: "What matters now is to secure the appointment of an independent chairman who commands the support of both external and internal shareholders. The chairman would then be well placed to lead a refreshment of the board."
The merger between Glencore and Xstrata was finalised on 2 May after much delay, mainly due to opposition by Qatar Holdings, Xstrata's second largest shareholder, against the multi-million pound "golden handcuffs" plan to retain Xstrata's board members.