Spain reports trade surplus as imports slump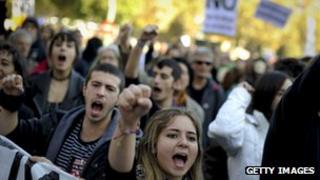 Spain has reported its first monthly trade surplus for more than 40 years.
Normally seen as a positive development, the surplus actually points to a huge slump in imports, rather than any bounce back in economic activity.
The surplus of 634.9m euros ($814.1m; £535.4m) in March reflects a 15% plunge in imports, compared with the same month last year.
Unemployment in Spain now runs at 26.7%.
Spain, which is the eurozone's fourth-largest economy, has not recorded a monthly trade surplus since 1971.
Spanish exports to other European Union members fell by 8.1% in March, but overall exports grew by 2% to 20.2bn euros.
The Economy Ministry said this was down to the country "continuing its marked process of re-orientating its sales to other markets where the economic outlook is more favourable, such as the Middle East, Africa and United States".
Earlier this week, official figures showed the eurozone is now in its longest recession on record.
Nine of the 17 EU member states, including Spain, are mired in recession. As a whole, the eurozone economy contracted for its sixth straight quarter between January and March, shrinking by 0.2%.